Sri Beach Bungalows and Villa..............
SRI BEACH Bungalows and Villa - (the idyllic corner for your relaxation)
Holy Cross Road, (Beach road), Mudukatuwa North, Marawila
SRI LANKA.

"SRI BEACH Bungalows & Villa" is a new complex conceived only recently for your welfare during your stay in Sri Lanka, just "less than 1 minute walk" to the golden beach of Indean Ocean. The owners, expressing freely in English will take care of your stay,to make it an entire success.
Breakfast and arrangements for dinner (can be arranged at a request), Excursions, Sri Lanka round trips, A ayurveda treatments among others are also performed at reasonable rates.
SRI BEACH Bungalow and Villa, your tourist residence, is registered with and licensed by the TOURISM AUTHORITY, Ministry of Tourism, Sri Lanka.
Bungalows
Bungalow 1
The upper and down floors accommodating two persons each or Family with kids or a Group. Downfloor with a living and sleeping, kitchenette, spacious verandah and an attached bath. Upper floor with bed room, attached bath and a spacious balcony over looking Ocean and beach. Maximum accomodation for 4 Persons.
Bungalow 2
A single story compact bungalow with a bed room, small living, dining with a kitchenette and a bath. Best for One or two persons with a small terrace over looking garden.
Villa
A modern designed villa, with two floors.Ground floor with 2 bed rooms, Living room, Bath and Toilette,Pantry and Kitchenette and a spacious terrace with sitting facing a lotus pond.Upper floor with 2 spacious bed rooms, Bath and Toilette, TV lounge and three sunny balconys. Also could separate Floors for two units by closing the stairway with a seperate entrance from the front, or to be use as a one unit. Maximum accomodation for 7 Persons.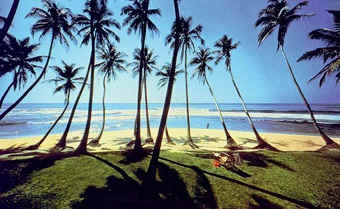 Facilities available.....

1) Double beds or Single beds (attachable as double) with non-allergic pillows, bed sheets, blankets, towels, Mosquito nets etc.
2) Attached toilets and showers on both floors are found in your room itself with Cloth washing facilities
3) Refrigerator and Cooking facilities in the kitchenette (only in the down stairs).
4)Sun bathing in the garden with sunchairs
5) All rooms well furnished and equiped with Audio Stereo Setup and Refrigerators.
6) There are also 2 bicycles at your disposal.
7) Open air Grilling facilities (Ba B Que) at the rear garden near Lotus pond
8)Security and privacy through a rounded wall and gate.
9)Telephone and Internet facilities on your request.
10) Chill-out places in the Garden for your relaxation.

Expecting you to be with us soon.
Best compliments, Sri Beach Bungalows Team
Amenities: Phone,Stereo, CD Player, Kitchen, Microwave, Refrigerator, Gas Cooker, Cooking Utensils provided, Plates, Glasses, Cutlery (Knives,Spoons, Forks etc..) Linens provided, Charcoal Grill (Ba B Que)

*Pet Friendly

Activities (on site or nearby): Biking, Tennis, Ayurveda, Fitness Center, Fishing, Wildlife Viewing, Shopping, Restaurants, Cinemas, Sightseeing, Swimming, Snorkeling / Diving, Boating, Waterskiing, Surfing, Music and cultural events near by Hotels.
Dates available: Year Round...!!!